Price:
・3inch / 7pcs. / ¥850(税抜)/¥935(税込)(FISH SKIN COLOR : ¥1,300(税抜)/¥1,430(税込))
・4inch / 6pcs. / ¥850(税抜)/¥935(税込)(FISH SKIN COLOR : ¥1,300(税抜)/¥1,430(税込))
近年のバスフィッシングにおいて欠かす事のできないミドストやホバストなどの中層攻略を、「よりイージーかつ効果的な物にする事」をコンセプトに開発したのがフィッシュローラー。
この手のリグに苦手意識を感じさせてしまう一番の要因と言える「使用感の無さ」を改善するために、ヘッドに水受け面を設け、エラを張らせた形状に設計。適度な抵抗を作ることで明確な使用感を実現しました。
更にその抵抗は、いわゆるi字引き状態のストレートリトリーブにおいて絶妙な水押しで存在感を発し、エアホールによる浮力と相まってホバストの要である「極スローに水中を漂わせる」ことを容易にしました。
そして中層攻略においてバスをライズアップさせる要素のひとつとも言えるロールアクションを誰でも簡単に生み出せられるよう体高を持たせています。四角断面のボディ形状も相まってエッジの効いたボディーロールと強いフラッシングを発生し効果的にバスを惹き寄せる事を可能にしました。
また、喰わせ能力に特化したい3inchのロールアクションはタイトに細かく、強くアピールしたい4inchは激しくロールするよう状況に合わせて両サイズの明確な使い分けが出来るようにセッティングしています。
足場の限られる岸釣りにおいては極軽量なウェイトを用いるホバストの飛びの悪さは大きなネックになります。その点フィッシュローラーはナチュラルさを失わないギリギリまでボディ幅を厚くし体積を稼ぐ事で、ホバスト対応ワームとしてはクラス最高の飛距離を実現。
ボートフィッシング×クリアリザーバーのイメージの強いホバストを、河川やため池そしてクリア~マッディまで幅広く対応するメソッドに昇華させたフィッシュローラーは、あらゆるフィールドの中層を攻略するスペシャルウェポンとしてその威力を遺憾なく発揮する事でしょう。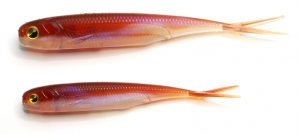 FISHROLLER 4″
FISHROLLER 3″
The FISHROLLER was designed with the concept of "easy and effective" mid-depth tactics like the Midosuto and Hobasuto which are indispensable in modern day bass fishing.

This type of rig is often difficult for many anglers because of its "lack of feeling". The FISHROLLER improves on this shortcoming by adding more water-catching area on the head and inflated gills. A clear feel of the action is achieved by adding just enough resistance.
This fine resistance also pushes water on straight-line retrieves and gives it presence. Combined with the air pocket that gives it ample float, a "dead-slow underwater hovering" is achieved, which is essential for the Hobasuto technique.
The other important element to get fish to bite in mid-depth is a rolling action. This is made possible with a good thickness that allows easy rolling action for anyone.

Its square-sided body and sharp edges create a roll and strong flash that attracts bass effectively.
Two sizes are available to adjust for different situations.

The 3-inch has specifications to induce bites with its tight and fine rolling action, while the 4-inch rolls furiously for high appeal.
For land-based anglers, the super lightweight needed for the Hobasuto technique proves poor in casting distance. However, the FISHROLLER adds just enough width and volume to allow an effective Hobasuto while appearing natural. It has achieved best in-class casting distance for a Hobasuto worm.
The Hobasuto technique is often used for bottom fishing clear reservoirs, however the FISHROLLER is also effective in rivers and lakes and clear to muddy water. This special weapon is sure to be a force for mid-depth tactics across various fields.